Vigencita de la Villita (Mixed Media 2016)
Aytzi Hearts and Minds (Street Art Collage, Pilsen)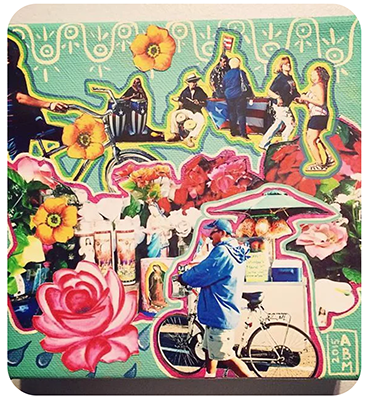 El Pueblo en Bici (Collage 2015)
Pasando entre Barrio y Barrio (Collage 2014)
Vigencita de la Villita (Mixed Media on Canvas 2016)
Young Lord Dreams (Mixed Media 2016)
"I choose to use the camera to recreate a sense of awareness, my own, and one I wish to create in others. The camera is a way to look at things that one might normally take for granted in everyday life." — amara betty martin
Amara Betty Martin is a visual artist and independent arts organizer working across the city of Chicago with a focus on highlighting emerging artists, providing a platform for expression and economic exchange and raising funds as well as awareness for grassroots causes and organizations. 
Her visual art focuses on urban surrealism through photography, drawings, video, collage, music and writings, combining the artists own work in the community and photography with paint and mixed media as well as with vintage and found materials. Her style is pop surrealism with heavy African and Native patterns and da-da influenced decorative touch. Themes in Martin's work touch on activism, art and culture across the city. Her images depict the vibrant Latino and African American communities through images of cultural iconography, street photography, examinations of urban social and economic issues as well as architecture, and it seeks to incorporate African, Native, Latino and abstract patterns and themes to connect the past and present. 
Amara Betty has organized and participated in more than 50 visual art exhibitions, cultural events and projects in the past 5 years. Having collaborated with Quennect 4 Gallery, Q4 Radio, Multikulti, Las Artelitas, Que Horas Son, Cumbiasazo, La Catrina Café, Pachanka Music Culture, Enlace Chicago, Carlos & Dominguez Fine Art Gallery, Mujeres Latinas en Accion, Chicago Womens Health Center, Girl Talk, Villarte, Radio One Chicago, Chicago Bike Winter Art Show, Humboldt Park Arts Fair, Chicago Young Progressives and more.
Ode to Sound Guy (Mixed Media 2016)
Vigencita de la Villita (Collage 2015)
Sin Borders (Mixed Media 2015)